Who we are:
Maker Works is a 14,000 sq. ft. member-based workshop for small businesses, entrepreneurs, tradespeople, skilled workers, artists, makers, and hobbyists. We provide
Access to thousands of dollars worth of tools

Space for projects big and small

Formal instruction and support for learning

A vibrant community of like-minded people
Located in Ann Arbor, MI. we offer tools and education in METAL, ELECTRONICS, WOOD, CRAFT, JEWELRY and SOFTWARE
Take a tour:
We'd love to give you a free tour! Stop by anytime and see what current members are making. Tours take about 15-20 minutes. You can also schedule a group tour for business, students, boy or girl scout troop or club by email us at membership@maker-works.com
About our space:
There are 5 studio areas: Metal, Electronics, Wood, Craft, and Jewelry. Each area has benches and tables on which to build your projects, electrical outlets for your computer, and project storage space. There are also hundreds of hand tools and clamps and power hand tools such as sanders, drills and routers.
The Conference Room is used by many local maker groups and has extension cords, tables, chairs, 3 whiteboards, and a digital projector that is both PC and Mac compatible. There is also a kitchen for you to make coffee or tea and microwave or refrigerate your dinner or lunch.
How to join:
When you join Maker Works, you gain access to not just a multitude of state-of-the-art tools but a creative, thriving and supportive community as well! Join today and start learning, building and collaborating immediately!
Maker Works offers several types of membership. Benefits include access to all areas and their tools, access to computers and software, free WIFI, and more!
$300 FOR 10 VISITS, good for ONe Year
PROFESSIONAL
(EXTRA HOURS)
* All Hours membership has additional prerequisites.
Hours & Contact:
3765 Plaza Dr.
Ann Arbor, MI 48108
734-222-4911
membership@maker-works.com
Monday – Thursday 1pm – 9pm
Friday 9am – 6pm
Saturday & Sunday 10am – 4pm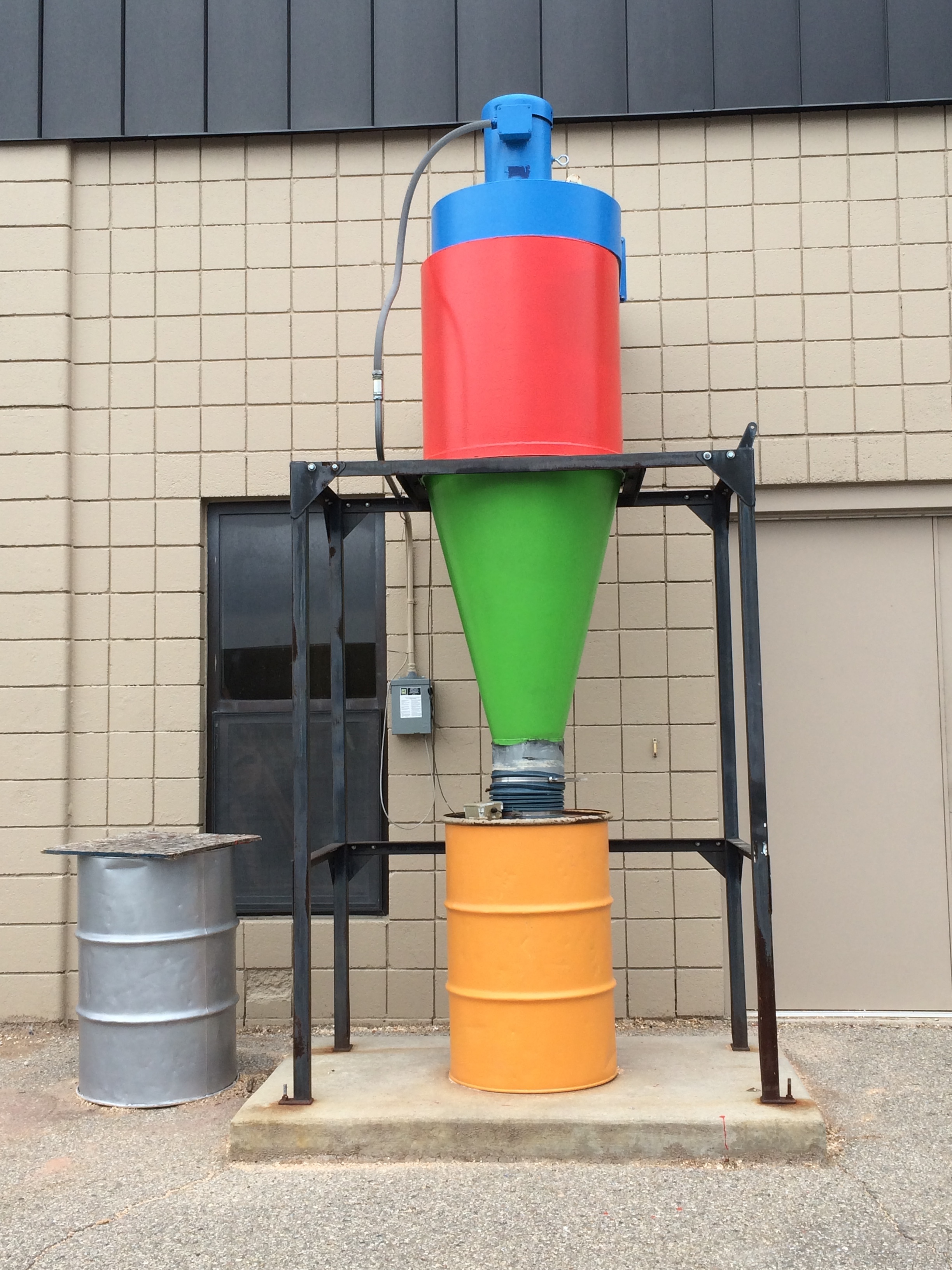 Look for the colorful dust collector!
Locating Maker Works within Airport Plaza industrial park can be challenging. Most of the buildings are beige, many navigation apps give the wrong directions, and signage is limited due to zoning regulations.
We've painted our dust collector in fun Maker Works colors to brighten your day and help you find your way!
Across from Costco, turn onto Plaza Drive, take the (quick) second left, and it's the third building on the right. The entrance is around the corner from the dust collector, on the right side of the building.